At start; when you fall for your girlfriend/boyfriend or wife/husband so much, when you've got only merely a couple of reasons why people fall in love; but after months, and years of being with each other, you find numerous reasons why you adore each other.
Make your beloved feel special in your own personalized styles. After you point out, you sure to outshine and become the one rule of your love's heart! So go ahead and begin professing love for your sweetheart.
Here are 100 reasons you could point out as the reason for why you love her/him.
1.I love the way in which you make me smile.
2.You learned seven languages just for me.
Source:tumblr.com
3.I love how when you're not right next to me, I feel you with me.
4.I don't care how others see me; you make me feel unique.
5.The way you hold my hand so tight.
6.The way you never let my hands go.
7.I love you because you treat my family right.
8.I hope it is your name that appears on the screen when my telephone rings. Even if you only called me two minutes before.
9.I love how you're present with me.
10.I love you not only because who I am when I am with you but also because who you are.
11.How when I act a bit crazy you grin and soothe my aches.
12.You constantly give me surprises.
13.Things like this perfectly define us.
source:tumblr.com
14.I love your voice. It somehow resonates greatly within my spirit.
15.They way you make sure I have everything I need.
16.How because you think you'd go across the country merely to be with me I'm your entire world.
17.I love you because you stay by my side when I'm sick and always take good care of me.
18.When I first met you, I looked into your heart. I understood you were the one, and we would have an excellent beginning.
19.I love it when we fall asleep on the couch together and stay up late watching films.
20.I love the way we complete each other's sentences.
21.How you would plan a pleasant excursion for us during vacations.
22.I appreciate them all, large to small.
23.You really know how to dance.
Source:tumblr.com
24.I love your eyes. They can be so (handsome, mysterious, sexy, etcetera).
25.I adore the way you treat my buddies.
26.I adore you because you've got an amazing sense of humour that always makes me laugh.
27.You'd leave love notes to remind me to remember to consider important things, when I'm still sleeping in bed and to eat breakfast.
28.I love that we'll grow old together.
29.You are drop dead gorgeous on the outside, but you're even more amazing internally.
30.I love that you are my companion in the whole world, and I can tell you anything and be myself constantly.
31.You promise to build a treehouse with me so that I have a cosy and quiet place whenever I need to to be.
32.I love how we can spend the whole night together doing nothing but talking and hanging out and it's still an incredible time.
33.We changed each other for the better.
Source:tumblr.com
34.I love that you just love to spend as much time with me.
35.I love your brains and how you can keep a conversation going.
36..I love that you take time of your life to show me you love me.
37.I adore laying right next to you the whole night feeling secure and safe.
38.I love you that I will trust you.
39.I adore how amazing you are during sex.
40.You support me by telling me and consistently eating my cooking it is good!
41.You're constantly saving funny memes on your phone to exhibit me after because you want me to laugh also.
42.You unflinchingly help me untangle the last 10% of every project I undertake.
43.We both follow directions well.
Source:tumblr.com
44.I love the way we speak for hours without getting tired of one another.
45.Because when I complete yet another road race, I'm constantly greeted by your text, "did you win?"
46.You make my dreams all come true, irrespective of how small they're.
47.I love your texts that are romantic.
48.You love me even when it's "that time" of the month!
49.Your kisses make me weak in the knees.
50.The fact that you taught me how to love.
51.You might have given me a reason to confront tomorrow.
52.You take the heaviest groceries in yourself.
53.The anticipation.
Source:tumblr.com
54.I love the fact that you're unafraid to show your love in public for me.
55.You know how to get me.
56.Because I don't picture anybody else in my own life I love you,.
57.You're a big softie in regards to kids.
58.I adore you for accompanying me to have my nails done.
59.I love the way you have become part of me. When you're away I feel incomplete.
60.You handle my family.
61.You've got given breathtaking memories to me.
62.Your hugs are always able to make me feel better.
63.Bath Time.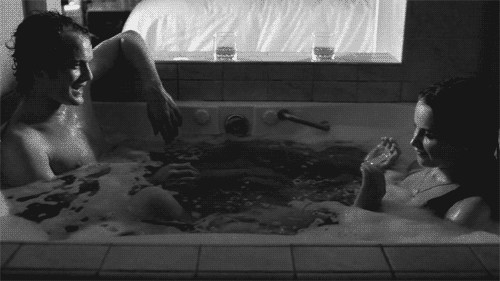 Source:giphy.com
64.You support my hobbies and believe within my creative abilities.
65.I understand that I will come to you with a request to fix or build something for an upcoming celebration and you may always find a creative solution.
66.I love the way in which you will not let me compromise myself.
67.I adore the fact that you value the things I do for you and doesn't take them for granted.
68.One reason why I will always love you is the fact that you are always 100 percent reliable.
69.I love the fact that you are capable of handling every challenge that comes my way.
70.I adore the way in which you believe I am perfect despite my imperfections.
71.I love all the unique words that you call me.
72.I kiss it, and you feel as if you were being kissed by me for the first time.
73.You make train rides so much more interesting.
Source:wifflegif.com
74.I love the fact that when you saw me, you immediately knew I was the one.
75.I love the way in which you enjoy trying out new things.
76.I adore the way you're intellect.
77.You're a hardworking person, lazy and yet also stubborn.
78.How jealous you're of my guy buddies, despite the fact that they compare nothing!
79.You like the feeling of "prickles on my legs.
80.How you can't get to sleep without me tracing my fingers along your chest and abs.
81.You listen to me. | The sweet spontaneous things you've done for me.
82.The fact that this list was not incredibly difficult to write just because I love you. To much more and I want to wish you a happy valentine's day to come. Te Amo con todo mi Corazon. (I adore you with all my heart).
83.I love the way you wake me up.
Source:favim.com
84.How you can make me weep tears of happiness simply by kissing me.
85.The fact that you will be the first person who actually loved me.
86.First, authentic man that I've ever loved.
87.How you love me in spite of my past.
88.How we fell asleep on the sofa, everyone believed we were adorable.
89.Your hair always looks good and smells delightful.
90.You do not mind to show your affection for me.
91.I love how giving you are in all positions.
92.The way you've opened up your heart and life to me.
93.The way you hold my hand.
Source:giphy.com
94.You know just what to say to make my heart melt.
95.I love you that you always listen to what I have to say.
96.I love the way you dress and your style.
97.I love you more reasons tan I could ever explain.
98.I love that we can be silly with each other.
99.I love the fact that you gave me the gift of children.
100.I love how I've met my life partner and my soul mate.
Source:giphy.com