Home
/
Best Sellers
/
Segway Ninebot ES4 Electric Kick Scooter- 800W Motor, 28 Miles Range & 19MPH
Segway Ninebot ES4 Electric Kick Scooter- 800W Motor, 28 Miles Range & 19MPH
---
About this item
Dual Batteries: With an extra Lithium Ion battery and upgraded motor, ES4 boasts up to 800W of power, with a top-speed of 19 mph, travel up to 28 miles and accommodate a max load of 220 lbs. The ES4 can take you just about anywhere you want to go.
Portable Folding Design: Ninebot Kickscooter by Segway ES4 is sleek, lightweight and features a one-step folding system. Now our riders can carry the ES4 scooter on public transportation, store it in your car and take it to any destination you desire.
Safe & Comfortable Riding: Front and rear wheel shock absorbers equipped with the large solid tires provide maximum rider comfort even when traveling at high speeds. The mechanical and electrical anti-lock braking system ensure braking safety.
Technology Superior: With a LED display, bluetooth capabilities, cruise control, customizable ambient light colors, and mobile app connectivity for additional security and firmware updates, Segway ES4 electric scooter combines performance with luxury.
Quality Assurance: The ES4 is designed to bridge the gaps along your journey, whether it's the store two blocks away or the bus stop down the street. Please refer to warranty information in product details below.
8″(F)/7.5″(R) Large Solid Non-Pneumatic Tires
---
Product Description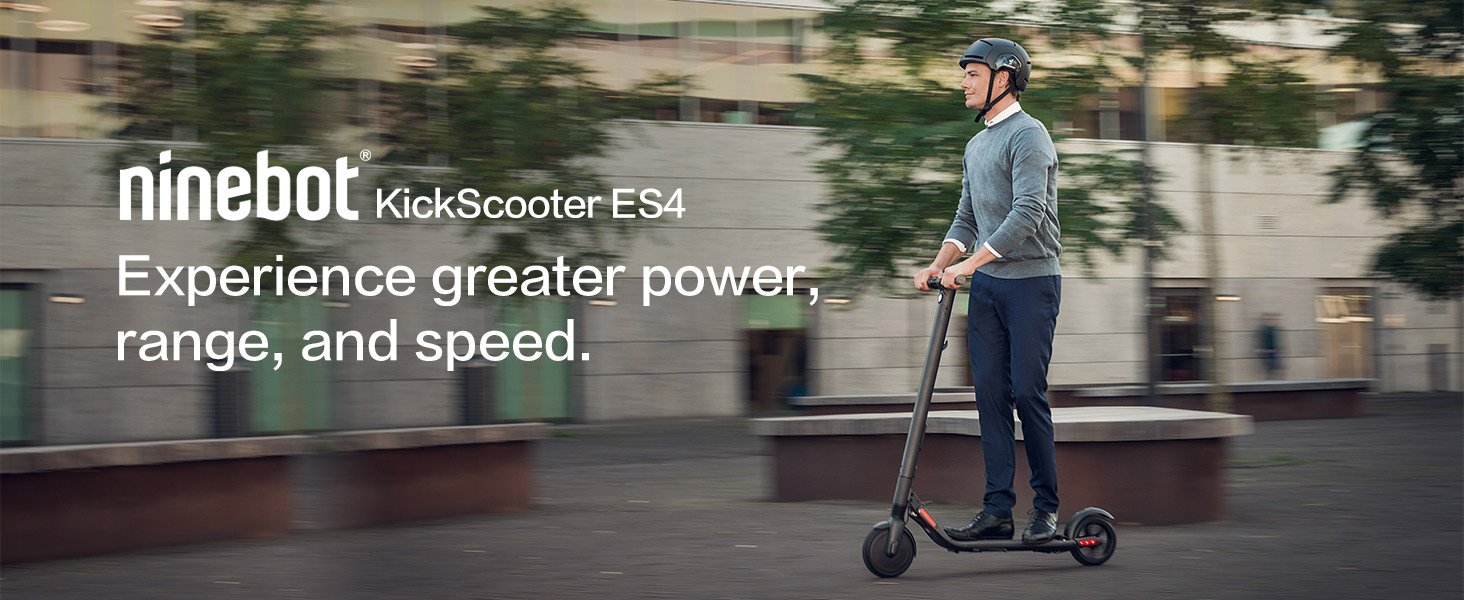 Specifications:
Brand: Segway
Color: Dark Grey
Age Range (Description): Young Adult
Special Feature: 3 of speed modes,Colorful Atmospheric Lights, One-step Folding System
Weight Limit: 210 Pounds
Item Dimensions LxWxH: 40 x 17 x 45 inches
Number of Wheels: 2
Model Name: Segway Ninebot Es4 Kickscooter
Wheel Material: PVC
Item Weight: 14 Kilograms
Max. Speed: Approx. 18.6 mph (30 km/h)
Typical Range: Approx. 28 miles (45 km)
Battery Capacity: 374 Wh
Net Weight: Approx.30.9 lbs (14 kg)
Charging Time: Approx. 7 h
Payload: 55–220 lbs
Max. Slope: Approx. 10%
Atmosphere Light: Colorful Atmospheric Lights
Riding Modes: Speed limit, Standard, Sport
Recommended Age & Height: 14+ years & 3'11" –6'6"
---
Customer questions & answers
Question:I weigh 285 lbs. so can I ride on a Segway Ninebot es4 daily?
Answer:I'm 330 pounds I look absolutely ridiculous when I ride it everywhere. Yes it will bottom out the suspension its still does 20 mph maybe it's a little slower getting up to speed but that's to be expected. It is extremely impressive the range I can get out of the scooter I never have it on anything other than the super speed setting and I never half throttle it and I still get 15 miles from a fully charged to 10% till dead. I would definitely recommend this anybody thinking about getting one.
Question:Is the range of 28 miles based on using both batteries or just one?
Answer:Both. The two batteries are already pretty much built within the scooter, it would be a pain in the ass to try and remove them. Only complaint I really have about this scooter is that you cannot charge it in folding position, it has to be standing up in order to get the cord plugged in. Also I would recommend not keeping it in a hot trunk all day, I wanted to show it off at work but by the end of the day it felt so hot I could barely hold it. That's definitely bad for the battery, so avoid storing it in hot spaces
Question:When it gets to top speed does it electronically limit you to that speed?
Answer:I weigh 130 pounds, and I got up to about 24MPH on a flat bumpy road. So I believe weight plays a major factor on the actual speed of these scooters. I'll post my riding trips for as a reference.
Question:What's the max weight and is there a more powerful model?
Answer:Max weight is 220lbs and this is the most powerful model
Question:My city has a speed restriction of 20km/h. How do it change the configuration of this scooter so it doesn't pass that limit?
Answer:you'll just have to watch the numbers on top and not push the throttle farther
I'm not sure you can manually set the max speed
it wouldn't be hard to restrict yourself with just the throttle lever